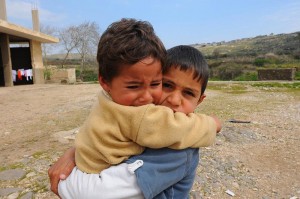 Thousands of Syrian refugees need your help – give through CAAP and make your dollar go further with our special match opportunity!
 To maximize humanitarian relief to Syrian refugees, the Center for Arab American Philanthropy is offering a special match opportunity. Donations between $100 and $2,500 made to CAAP will be matched twenty-five cents to the dollar.
You can make a difference by donating to CAAP and designating your gift to one of the following organizations: Catholic Relief Services, Life for Relief and Development, MercyCorps, Questscope and UNICEF-United States Fund.
There are only $12,000 in match funds, available on a first-come, first-served basis. Give now through CAAP to the organization of your choice – and increase your donation in support of Syrian refugees by 25%!
Please be generous and click here to donate now!   
CAAP is a nonpolitical, nonsectarian organization that will operate its disaster relief grantmaking according to the principle of providing the most effective humanitarian aid to help relieve the suffering of victims.