Project Hope Applications Are Now Closed
We're happy to announce that Project Hope will be returning this year and taking place from July 24 to August 6! We appreciate all of those who sent in their applications. For more information, please contact Dillon Odeh, the Federation Program Director, at [email protected].
What is Project Hope?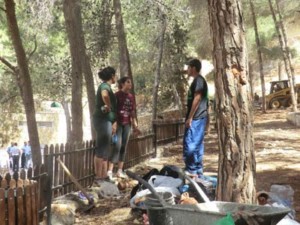 Students and young adults from various Ramallah communities throughout the U.S and potentially, non- Arab members of their communities, partake in a two-week, full-immersion, hands-on program in Palestine, performing service-oriented projects from planting olive trees, helping to build parks and play areas, to serving as camp counselors. To date, more than 250 young people have participated in this life changing experience.
Project Hope annually takes a delegation of approximately 20 young men and women to Ramallah to expose young people to their ancestral homeland, its language and culture. Participants will visit local organizations involved in community service, education and cultural preservation. Delegates will serve on specific projects along with Palestinian volunteers, and will learn about life for Palestinians through meetings with local leaders and daily interactions with peers from Ramallah. In an effort to educate all youth in the country the program welcomes non-Arabs to apply!
Participants are encouraged to become involved, and hold leadership roles within the American Federation Ramallah, Palestine.
Our History
Launched in 1997, by then AFRP President, Salem Mufarreh, as a means of furthering the federation's four founding principles of charity, culture, education, and society—principles that have guided the AFRP's coalition of clubs since 1958.
Mission
The mission of the Ramallah Federation's Project Hope is to link young adults with the City of Ramallah and to awaken or cultivate the spirit of volunteerism within the community.
Our Goals
Although the scope of Project Hope's benevolent activities is both large and varied, the program has special emphases on two very different yet very crucial endeavors:
(1) within the AFRP, it has developed and helped facilitate programs that benefit the AFRP's young adult membership; and
(2), it has solidified and mobilized volunteers from the professions (i.e., doctors, dentists, business people, lawyers, engineers, etc.) to provide care, support, and advice to the needy in the Palestine.
Selecting Criteria
All participants must fulfill the following criteria:
Between 18 and 29 years old
 College students or accepted to attend the following Fall.
Active in their community
Have the desire to learn about the Ramallah Heritage
Arabs and non-Arabs students are welcome to apply!
Ideal candidates will have good written and oral communication skills, will be a team player, punctual, and attentive to details.
All selected delegates will be required to:
Have a valid passport that expires 6 months after the program concludes
Pay for airfare in advance in coordination with the Federation's staff.
Respond promptly to communications
Respect and follow rules agreed with trip leaders
Commit to document their experience during the trip on personal journal, write on a daily basis and be willing to share extracts of it with the group for reflection
Be an advocate for the program by supporting the Federation in their recruitment and fundraising efforts (e. g. speak at events on behalf of the program, help organize fundraising initiative, write a testimony to share with AFRP members)
Funding & Donations
Project Hope operates under the umbrella of the AFRP's Educational Fund and, like its parent, it is classed a 501(c)(3) charity, meaning that all donations of time, money, medicines and materials to Project Hope are tax deductible. Additional funding comes from the generous support of the AFRP membership, private donations, corporate sponsorship, and grants. The program has an immediate and ongoing need for volunteers, for donations of medicine and other medical supplies, and tax-deductible contributions to fund its humanitarian efforts abroad and its charitable work in the U.S.