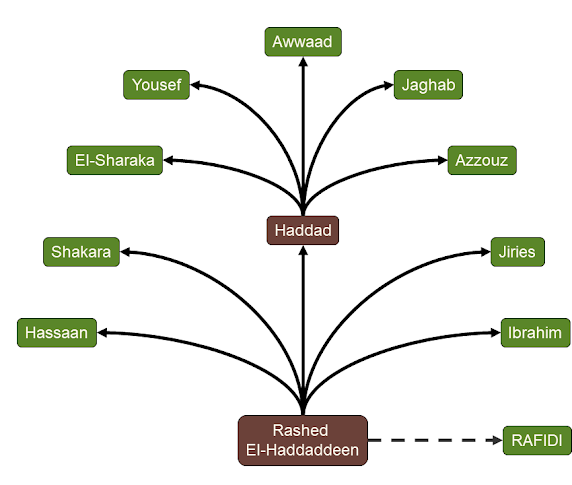 Kassees Hanna Family
Shihadeh Abu-Khaskieh Family
Awwad El-Kub'a: Kash, Kashou, Az'at, & Shamali Families
Michael El-Safadi Family
Ayyoub El-Safadi Family
Eideh Family
Ibrahim Elias Salameh Saah Family
Salameh Suleiman Salameh Saah Family
El-Shayeb & Danfour Families
Mousa & Khalil Hadeed Families
Ibrahim Hishmeh Family
Mousa Khalil Hishmeh Family
Odeh El-Dibbini Family
Farhat & El-Bassal Families
Ghannam Jaghab Family
Salameh Mussallam & Issa El-Kareh Mussallam Families
El-Kar'a, Bazlamit & Da'dour Families
Muhawieh Family
Judeh El-Huli (Deabis Family)
Salameh El-Sidawi (Muhawi & Zarour Families)
Mikhail Mizirawi, Khalil & Ashhab Families
Odeh El-Salma: Balat, Kawwas & Suleiman Abu-Izhak Families
Abdel-Maseeh Mogannam
Nassar Mogannam
Elias Ghannam Totah
Yousef Ghannam Totah
Salameh Ibrahim Totah
Yacoub Shatara
Nazzal Family
Araj, Zaghrout & Shahla Families
Dr. Philip Assa'd Ma'louf Family
Mousa & Issa Abu-Ali Families
Farhat & Farah Families
Salameh El-Wawi Bateh, Naser El-Wawi, Salem Abu-Raas, Awwad El-Sheikh, Khalil El-Wawi Families
Yousef El-Bateh Family
Abu-Teen, Ghazaleh, Akel & Masri Families
Suleiman Akel & Kassees Ghanem Families
El-Thalji Family
Nisrallah, Daoud & Hanna Abu-Mansour Families
Salameh Abu-Rayya & Ayyash Families
Yacoub Ghanem Kandah Family
El-Hassan, Salah & El-Kamoun Families
Farhoud, Dirbas, Hanna Izhak & Hanania El-Ghanem Families
Abed Family
Khalil Misleh Jaghab (Jaber, Yacoub & Salem Families)
Suleiman Shukeireh and Mikhail El-Far Families
Khalil Misleh Abu-Jaghab
Issa Abu-Misleh
Salah Jaghab
Rizkallah Jaghab
Saleh Naser Abu-Nassar
Zaru Jaghab
Yacoub Khashan & Habeeb Families
Shaheen Jaghab
Issa Suleiman Ajlouni
Salem Yacoub Ajlouni
Kassees Awad & Kassees Jiries Families
Odeh Faramand & Atallah Taweel Families
Aneed & Sihweil Families
Ghanayiem Yousef El-Ghanem Family
Mashni & Fallaha Families
Mufarreh & Eways Families
Shunnara Family
Shunnara, Isis & Karawat Families
Rayyan, Ikal, Mubarak & Natour Families
Katsha & Sakhleh Families
Ibrahim Rafidi Family
Yousef Rafidi Family
Khalaf Family
Baba & Sa'adeh Families
Zayed Family
Zanayed & Nasra Families
Ghuneim & Karroush Families
Zeybak Family
Khawaja & Dahu Families
Atallah Abu-Sara & Bishara Families
Foteh El-Salti Family
Jiries Musatlaha Family
Daba'I, Ankar, & Ziadeh Warradeh Families
Abu-Hani Family
Loussi Family
Mousa & Daoud Harb
Yousef Harb
Issa Yousef Harb
Ahwal Family
Kassees & Butrous Families
Salem & Rashed Families
Hanna & Yacoub Shmieh (Finnad Family) & Warra' Family
Issa Abu-Martha Family
Nassar Khalil Shamieh Family
Doughman Family
Sarsour & Ki'abini Families
Tawasha Family
Abu-Jiries and Badran Families
Jaber & Katwan Families
Kashou & Badra Families
You can view the Ramallah Family Tree and clan breakdown at this link.
You can access the family tree by applying for access here.
You can submit errors by using the contact form at the bottom of this page.
Submit Family Tree Errors
Please use the form to submit any and all errors found in the Family Tree pdf collection.  We appreciate your assistance in helping us to perfect the Ramallah Family Tree.
[contact-form-7 404 "Not Found"]
Contact Us
Additional Comments/Questions?
Click on the button to email your question or comment to the Ramallah Family Tree committee.
Contact Us